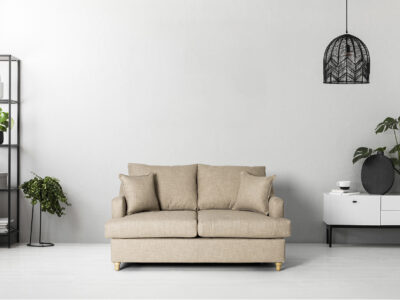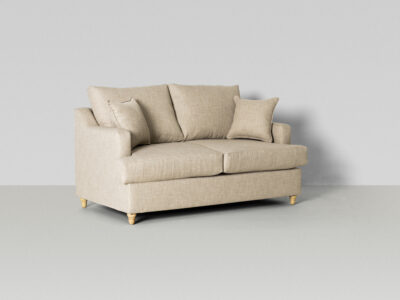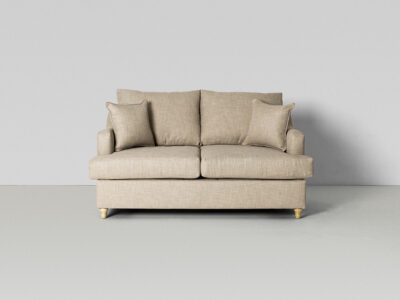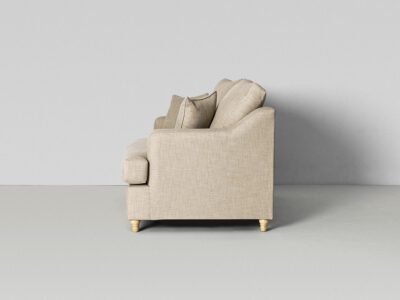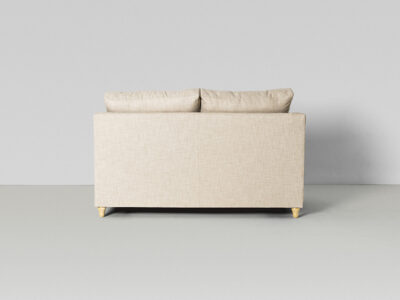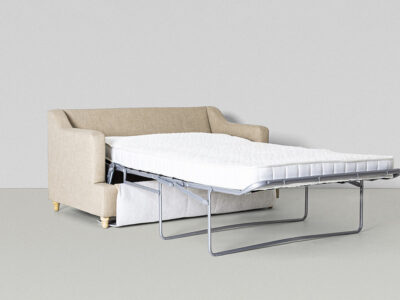 Eva
Handcrafted in the UK, the Eva's traditional design works well in
any décor.
The square shape of this sofa bed is softened by the elegant curved arms
and wrap-around seat cushions.
Our beautiful and vast fabric choice allow for a traditional or ultra-bright and contemporary look.
Shown with cushions which are available as an optional extra.
---
Full specification & details
Chair
Overall Dimensions:

W77cm x D90cm x H93cm
Love Seat
Overall Dimensions:

W134cm x D90cm x H93cm

Mattress Size:

94cm x 183cm x 10cm
Small
Overall Dimensions:

W154cm x D90cm x H93cm

Mattress Size:

114cm x 183cm x 10cm
Medium
Overall Dimensions:

W174cm x D90cm x H93cm

Mattress Size:

134cm x 183cm x 10cm
Large
Overall Dimensions:

W194cm x D90cm x H93cm

Mattress Size:

154cm x 183cm x 10cm
Product features
Fibre filled seat and back cushions
---
Available in the following fabrics
Genova Cinereous (B418)

Genova Rifle Green (B417)

Genova Prussian Blue (B416)

Genova Black Grape (B415)

Alassio Brown (P383)

Alassio Aurometal (P384)

Alassio Ashgrey (P385)

Alassio Pebble (P386)

Malta Khaki (B407)

Malta Granite (B405)

Malta Flame (B400)

Malta Charleston (B403)

Malta Japanese Violet (B430)

Linoso Teal (A501)

Linoso Slate Grey (A512)

Linoso Salmon (A505)

Linoso Red (A503)

Linoso Plum (A500)

Linoso Orchid (A507)

Linoso Orange (A506)

Linoso Midnight (A502)

Linoso Lime (A504)

Linoso Light Blue (A510)

Linoso Diva Purple (A508)

Linoso Cream (A509)

Linoso Charcoal (A511)

Dumfries Wine (A516)

Dumfries Truffle (A517)

Dumfries Sapphire (A520)

Dumfries Raven (A518)

Dumfries Pewter (A513)

Dumfries Mink (A515)

Dumfries Marine (A521)

Dumfries Lilac (A514)

Dumfries Latte (A519)

Siena Vegas Gold (B431)

Siena Bone (B429)

Siena Silver Chalice (B428)

Siena Lavender Grey (B427)

Siena Dim Grey (B426)

Siena Old Silver (B425)

Siena Gunmetal (B424)

Siena Dark Lavender (B423)

Siena Cadet (B422)

Siena Payne's Grey (B421)

Siena Yankees (B420)

Siena Weldon (B419)

Genova Merlot (B414)

Genova Tuscany (B413)

Genova Jet (B412)

Genova Quartz (B411)

Genova Old Burgundy (B410)

Malta Rackley (B401)

Genova Tiger's Eye (B408)

Malta Quicksilver (B406)

Malta Space Cadet (B402)

Malta Onyx (B404)

Genova Limoncello (B409)
---
---